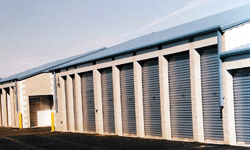 With self storage buildings, you will have direct control of the profit mechanism. Once the mini storage building kit is built, there is little intensive labor required to maintain the business. Further, these facilities can provide a steady cash flow, and they are easy businesses to enhance through related services such as climate controlled buildings and self storage records management.

Additional profit-making add-ons that are easily incorporated include: rental trucks, trailers and equipment, phone answering and fax services, packaging and boxes, parcel shipping, etc., mailboxes and others.

In our increasingly mobile society, the need for self storagebuildings continues to rise. Regardless of whether the economy is booming or slowing down, investing in a self storage building facility makes sense.

Pat Watson, our Self Storage Building Division Sales Manager, will be happy to work with you to select one of our standard building products or develop a custom storage building facility. Please call her if you have any questions:
1-800-245-0396
pwatson@flexospan.com

If you would like to send a message to Pat, please fill out the form below and click the Submit button.

And, since our storage building products are easy to erect, we have put storage building customers in business in just a few weeks.