About Us - Flexospan Steel Buildings, Inc.

For over 5 decades Flexospan has been committed to providing quality products and exceptional service to the Metal Construction Industry. Since 1969, the company has been a leading manufacturer of metal roofing and siding panels, matching trims, decking, structural components, pre-engineered metal buildings, as well as complete self storage packages.

Flexospan is known for specializing in hard to find heavy gauges and finishes. We maintain an extensive inventory of coil stock in various gauges and finishes which allows better lead times than most. We also carry a variety of fasteners, insulation, fiberglass panels and accessories making us your one stop shop.

Flexospan continues to grow to meet the needs of our customers. Locally owned and operated, with a sales team dedicated to providing the best customer service.

We have over 265,000 sq. ft. at our production plant located in Sandy Lake, PA. The plant is located close to the interstates to provide convenience in shipping.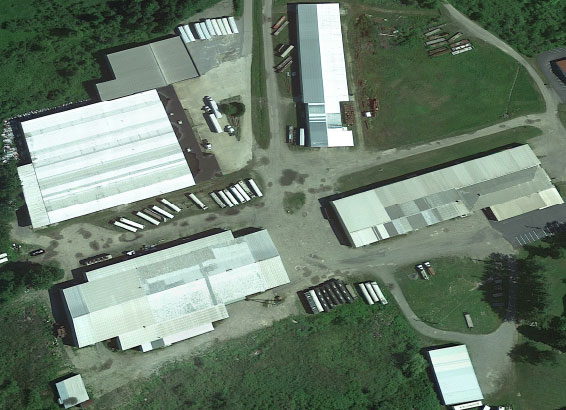 Flexospan products stand up in extremely corrosive and abrasive atmospheres. One of our standard stocked finishes on steel is a coating of thick baked-on vinyl plastisol, utilizing the latest in plastisol technology.

With over 20 panel profiles, Cs and Zs in many sizes, flashings to match each profile, closures, fasteners, insulation and sealants, Flexospan can provide a full package.

Flexospan maintains a huge inventory of coil stock in bare-Galvanized steel, Galvalume Plus, stainless steel, bare aluminum and painted steel. We offer 15 standard colors in three paint finishes, on 26- through 18-gauge sheeting coils. We also stock purlin and girt coil in 16- through 10-gauge in prime painted or Galvanized steel and stainless steel.

Many times, a retrofit project will require odd size framing sections no longer available. Flexospan can press brake those shapes up to 30' in length. (We are in the process of installing a 1000 ton press brake.) For projects that require radius-curved corrugated panels, the company manufactures and curves 2.67 X 1/2 inch or 2.67 X 7/8 inch corrugated in 26- through 18-gauge.
Flexospan has a self-storage warehouse division and provides complete material packages for entrepreneurs beginning or adding on to self-storage facilities.

Our engineering staff has years of experience in building design and production. Flexospan began manufacturing decking to answer customer requests that it provide the base under standing seam roofs and alternative roof systems for buildings, concrete pour decking, mezzanines, etc.


Manufacturing Metal Roofing & Siding
& Accessories for Many Decades!
To fulfill another customer request, Flexospan now manufactures mitered corners from materials that match the panel profiles in color, gauge and finish, for use on horizontally assembled projects requiring profiled corners.

Our company is an approved member of the Steel Deck Institute.

Customer service is the main function of the company's inside and outside sales team. Small enough to care but large enough to serve, Flexospan wants to earn your business.