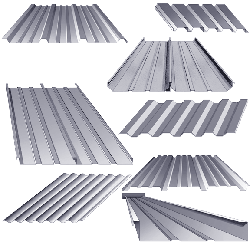 Energy Efficient
Radiant Barrier Reflective
Roofing and Siding
All energy efficient reflective Fluropon coatings are formulated to meet performance requirements for steep slope roofs.

Many of these coatings will also meet a variety of other local, regional and federal Green Design performance requirements including LEED and CRRC.

Energy efficient reflective Fluropon coatings are the preferred choice among environmentally responsible architects, building owners, and building manufacturers.
Ideal for roofing and siding panels on buildings that need to maximize energy efficiency and display a beautiful color finish....
Energy efficient radiant barrier reflective Fluropon coatings are field-proven, high performance exterior quality finishes designed to enhance the energy efficiency of buildings.
Cool roofing is a part of an interdependent system of exterior roofing surfaces, substrates, underlayment, configurations, ventilation, and insulation.
Reflective Fluropon coatings are available in a variety of colors.
Premium fluoropolymer coatings contain 70% Kynar 500 or Hylar 5000 resins and solar reflective pigments.
This powerful combination provides a durable color coating that resists heat absorption and enables the building to cool down faster. As a result, the air-conditioner does not run as much and energy consumption is decreased. All Fluropon reflective coatings have a minimum solar reflectance value of 0.25. The typical emittance value of these coatings is 0.85 to 0.90.
Energy efficient reflective roofing and Siding is ideal for use in:
Commercial Buildings
School Buildings
Retail Stores
Office Buildings