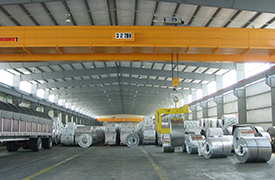 Industrial Roofing and Siding
Flexospan's frp Industrial panels are great for such applications as:
Steel Mills
Waste Water Treatment Plants
Paper Mills
Chemical Processing Plants
Fertilizer Plants
Foundries and Foundry Facilities
Coal Mine Facilities
Many other environments
Click here for Industrial panels. Note: panels are normally installed in the bottom portion of the building, depending on the application.
When you need translucent light to save power or when you need chemical resistant panels....
Translucent light panels let the daylight in so lights can be turned off.
High performance and lightweight fiberglass reinforced plastic panels that are corrosion and moisture resistant.
Fiberglass Industrial Panels resist chemicals, acids, alkalines and fungal growth.
Panels are available in:
8oz non fire-rated formulation with a translucent white smooth finish.
12oz fire-rated formulation with a translucent clear smooth finish.
Polyester resin combined with chopped strand fiberglass make frp panels strong and resilient. Multi-directional chopped strand glass reinforcement provides the structural integrity needed to achieve long-term performance.