PRE-ENGINEERED METAL BUILDINGS

Pre-Engineered Metal Building Manufacturer - Flexospan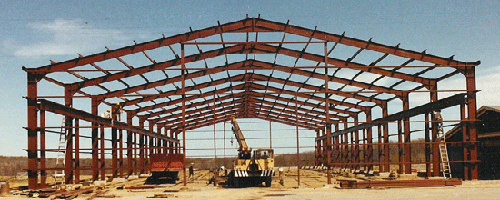 Metal Siding | Metal Roofing | Standing Seam | Purlin & Girt
---

Flexospan has been engineering and manufacturing custom designed metal roofing and siding, and pre-engineered steel buildings for many decades. From the moment you call Flexospan Steel Buildings and talk to one of our sales consultants you will know your metal building project is in good hands. Our highly experienced building design team can help you through all phases of your building project. We have metal buildings for sale, designed to your specifications... That's something you simply cannot get in a metal building kit.

Flexospan is a building manufacturer and not just a distributor. By controlling the production of your complete building package from design through delivery, we can assure proper fit of integrated building components while maintaining structural integrity.


Our professional engineering and building technical staff is at your disposal. Aided by the latest in building design software, you and Flexospan's engineers can uniquely design the most economical and durable pre-engineered steel building possible. Optional sealed drawings are available.

Our building manufacturing process is organized using lean manufacturing techniques. This process enables your building to be manufactured and delivered in a timely manner. Our rolling mills are all computer controlled, so structural steel purlins and girts are cut to the right length and holes are punched in the correct locations.

Flexible in design, as our name implies, we offer you unparalleled services. Not just an "off the shelf" building manufacturer, Flexospan steel buildings are customized to suit your needs. Options are what sets a Flexospan steel building apart from other building "kits" presented by a variety of pre-engineered steel building companies. We have the ability to fabricate many hard-to-find building specialty items. Flexospan offers you a wide assortment of heavy gauge metal roof and wall panels for fire walls, sound absorption, explosion release requirements, areas of extreme heat, corrosion, and humidity, in various protective finishes, and stainless steel. Searching for a building tailor-made to your requirements and still cost effective? FLEXOSPAN stands ready to assist you.